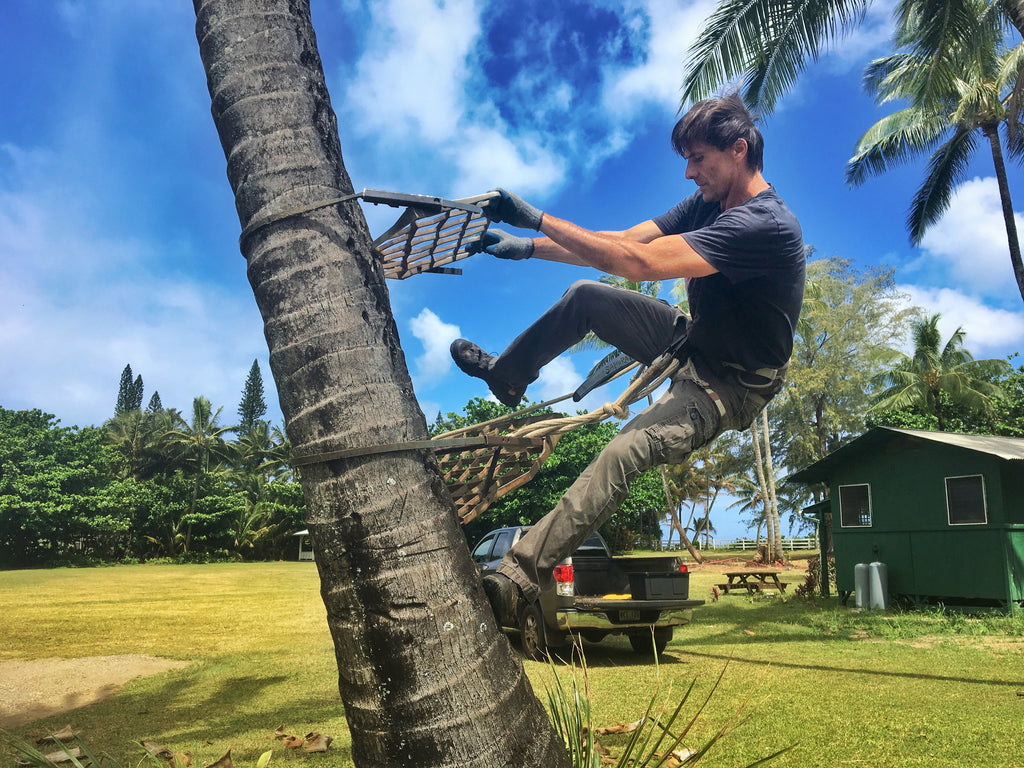 Standing in the cool shadow of a crown of palm fronds, Zolsti Csillag slips into a harness and dons a pair of protective gloves. He secures a tree stand at the base of a coconut tree and hops onto the platform. Like a giant inch worm, he wriggles his long, slender body up the tree trunk, eyes fixed on the round, green fruit fastened to the treetop.
"There's some crazy, unique stuff up here," Csillag shouts as he makes his ascent. "Sometimes I like to document all the animals I see. There are exotic birds, and the nests that they make out of plastic candy wrappers. Earthworms and lots and lots of ants. Mama centipedes curled up, holding on to their babies. There's a whole, beautiful ecosystem up here in these trees, and most people never get to see it."
 In less than two minutes, Csillag arrives 50 feet above the grass. He ties a rope to three clusters of coconuts, each heavy with electrolyte-rich water.
 Whack, whack, whack.
 He hacks the stem of the fruit clusters with the sharpened blade of a machete and lowers them to the ground.
 "I love being up here," Csillag says in a thick Hungarian accent. "I crave it. It's been about eight and a half years that I've been trimming coco palms and it's as much fun as the first time I climbed."
Csillag, 49, is a coconut tree farmer. He harvests about 25,000 coconuts per year from hundreds of trees he is hired to maintain on private properties across Kauai.
One such property is Camp Naue, the YMCA camp facility in Ha'ena. For decades the coconut trees at the oceanfront camp were farmed by the late Uncle Bruce Ho'opi'i, an indigenous Hawaiian who cracked open coconuts for tourists on the roadside near Maniniholo dry cave. Known as "The Coconut Man," Ho'opi'i trimmed and harvested the trees at Camp Naue until he could no longer climb. A few months before he died at in 2010, he gave Csillag his blessing to take over the farming of the coconut trees at the camp.
 "These trees are super special to me," Csillag says. "And there are many other properties that Uncle Bruce introduced me to. So many of the trees that I climb are because of him. He wanted me to take this on and I am so grateful. Spending time with these trees give me a special connection to the land."
Csillag's style of coconut farming is slow and deliberate. There are faster methods of harvesting a tree, but Csillag says he prefers his purposed style to speed.
 "I like to take my time and feel connected to the tree," he says. "It's not about doing it as fast as possible. If you take care of the trees, they start producing more. It's like their way of giving back."
 Each week, Csillag delivers Kauai Juice Company 60 gallons of coconut water from approximately 600 just-harvested coconuts. KJC uses the raw coconut water in various juice blends, including the ultra-hydrating Mintacolada (coconut water, pineapple juice and mint) and the crisp and nutrient-dense Shine On (coconut water, cucumber, moringa, clover sprouts and lemon). Csillag also provides KJC with twice-weekly deliveries of coconut meat, the star ingredient in KJC's vegan, 10-strain probiotic coconut kefir.
Not all Csillag's coconut bounty is sold for profit. Some of it gets cooked up and enjoyed by him and his family.
"You can make so much from coconut," Csillag says. "I've had a lot of time to figure it out. I have made ice cream, fries, chocolate-covered chips. I have made a pizza crust just from coconut. You wouldn't believe it — you can't even tell there's no flour. It's amazing what you can do with a coconut."