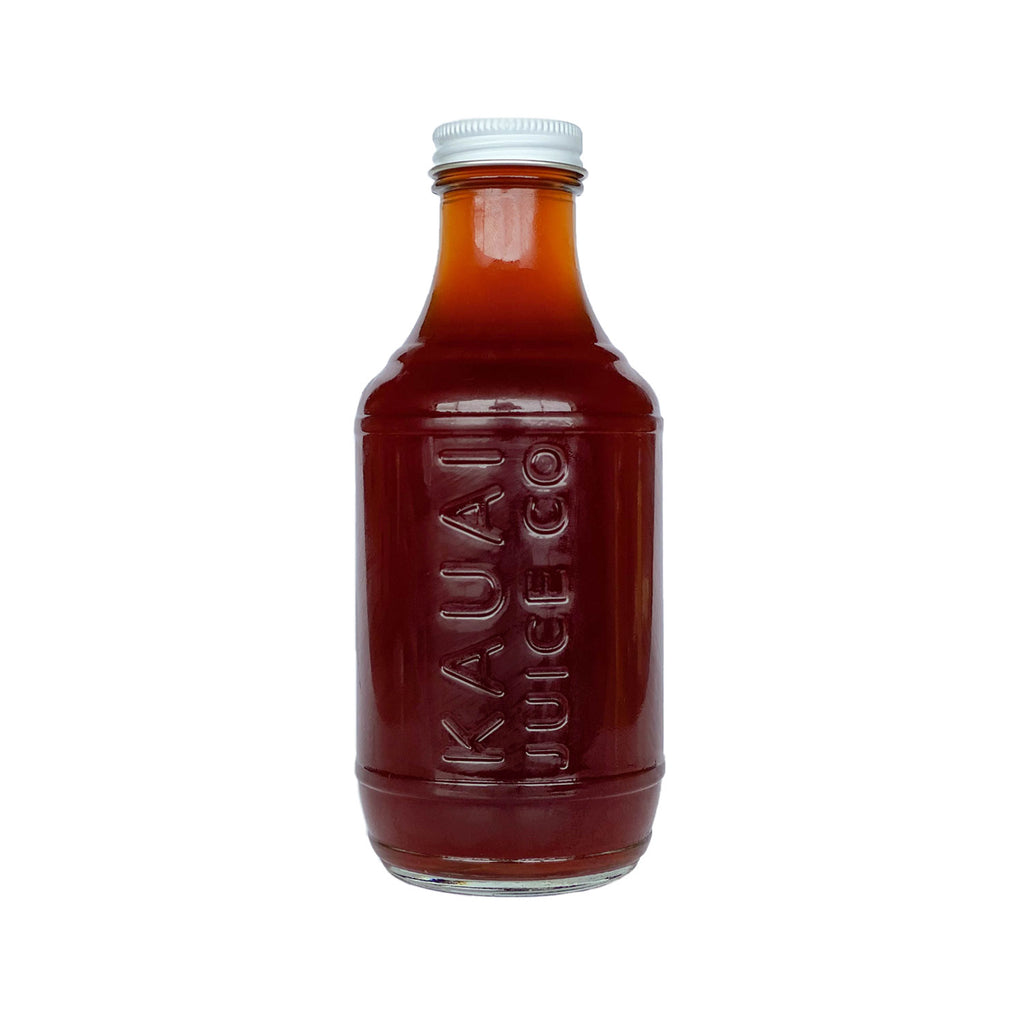 NONI JUICE - Raw and fermented
Limit 3 bottles per purchase
The Noni Fruit has been used in traditional Polynesian medicine for over 2000 years. Grown on Kauai and fermented by our friend Bruddah John, all of his proceeds go to support local schools on the island of Kauai.
We love this product not just for it's positive community impact but also for all of it's highly revered medicinal properties. 

Noni juice is derived from the fruit of a tropical evergreen plant called Noni (popularly known as Indian mulberry). It is a shrub native to the Pacific islands, and is even mentioned in ancient Ayruvedic texts "The fruit of the Noni has been used medicinally to boost the immune system and detoxify the body for thousands of years," says Dr. Manoj K. Ahuja, Fortis Hospital. It is rich in powerful antioxidants such as Vitamins A, C, B3(niacin) and iron. 
Health Benifits
Noni is known for being anti microbial, anti fungal, and loaded with antioxidants. 
On Kauai we like to think of Noni as our cure all. 
HOW TO USE: Noni juice has an extremely pungent smell, we recommend not adding to juices or smoothies but instead taking shots of it on its own. This product is fermented, however stable at room temperature for up to a month. We recommend refrigerating this product upon receipt where it'll be good for up to 1 year. 
INGREDIENTS: 100% pure fermented noni juice (No water added)
17 oz. bottle 
We do not ship this item to PO BOX's
By purchasing this product you are supporting your health and biodynamic farming on the island of Kaua'i. 
This product is raw and unpasteurized. Keep refrigerated. Best if enjoyed within 1 year. 
*These statements have not been evaluated by the Food and Drug Administration. This product is not intended to cure, treat, diagnose or prevent any disease
* Duty charges and fees ARE NOT included in shipping cost for Canada...yet :)