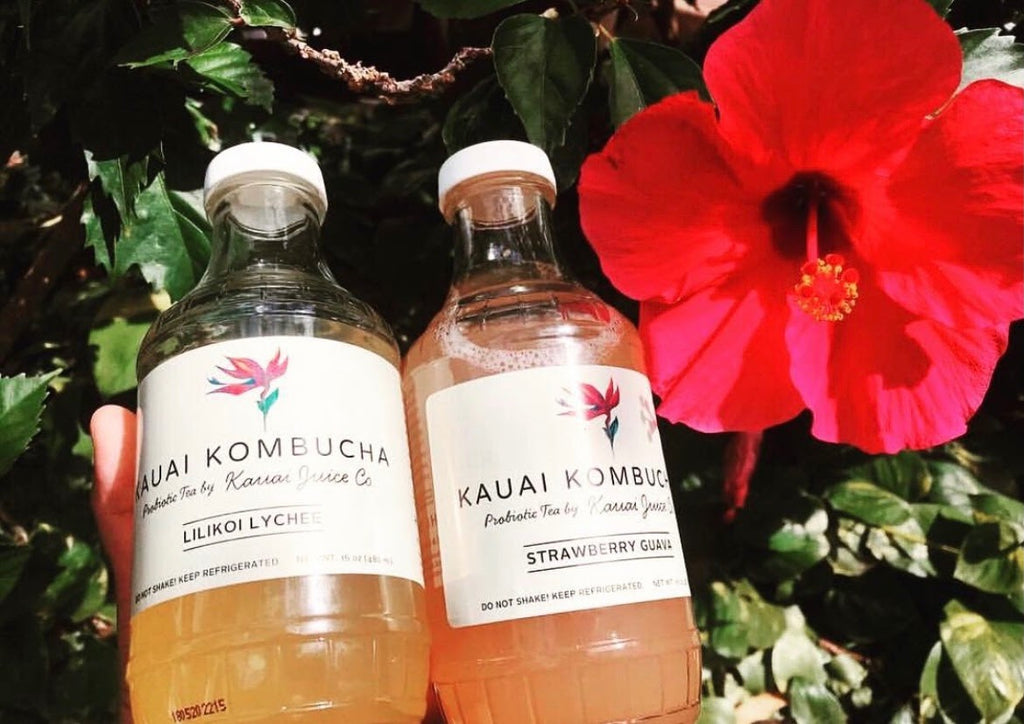 OUR BOOCH
Did you know that we were originally named Kauai Kombucha? For over a decade, our love and passion for kombucha has grown with our company. Our booch can only be found on the island of Kauai and is brewed in small batches after a natural two-week fermentation process.  Known around the world for its health benefits, this fermented, fizzy tonic is full of prebiotic fibre that feeds probiotic bacteria, while supporting energy production, digestion, immune health and nutrient absorption. We create our bright and colorful kombucha by hand and add our local ingredients just before bottling, by doing this we can ensure we are bringing you the highest probiotic count and the freshest unique flavors available. The more we learn, the more we realize that there are countless ways to utilize this power-packed probiotic so we thought we'd share a few of our favorite alternative uses for kombucha here!
 #1 KOMBUCHA IS A GREAT ALCOHOL ALTERNATIVE
Whether you're looking for an after work pick-me-up or a mid-day boost, kombucha is a great alternative to cracking a cold one.  Not only does it provide your body with so many more benefits as opposed to alcohol, it's brewing process is quite similar and we even offer it on tap! People tend to love it as a healthy replacement to beer because the carbonation can stimulate the same feeling, with way more positive side effects!
#2 KOMBUCHA IS DELICIOUS IN SALAD DRESSING 
Tired of your same old salad dressing? Try substituting kombucha for the vinegar in your favorite salad dressing recipe to spice things up! We also carry Kombucha Vinegar at all of our shop locations for just $5 a bottle which can also be a great substitute for traditional vinegar! The rule of thumb for salad dressing is 3 parts oil to 1 part vinegar.  Add any spices or fresh herbs that you like, shake in your reusable Juice Co.  jar and enjoy! We highly recommend storing your salad dressing in the fridge to avoid any further fermentation and formation of SCOBYs, but no sweat if they do form – you can always strain them out. 
#3 KOMBUCHA MAKES FOR AN AWESOME HAIR RINSE 
Yup, that's right, kombucha makes for an ideal rinsing agent! Since most shampoos are alkaline, an acidic rinse like strong kombucha will do wonders to bring shine and softness back to your hair.  Mix ½ cup kombucha with ½ cup water and after shampooing or washing with a favorite natural hair wash, pour the kombucha mixture over your rinsed hair. For best results, apply and massage the booch into your scalp, rinse thoroughly and dry gently.
#4 KOMBUCHA IS A GREAT FRUIT AND VEGGIE WASH
Have you ever bought that organic fruit and veggie wash at the store? Instead, try making your own at home by filling up a sink with water and adding one cup of kombucha or kombucha vinegar ! Let your produce sit in the wash for about 10 minutes, rinse and voila! Clean produce.